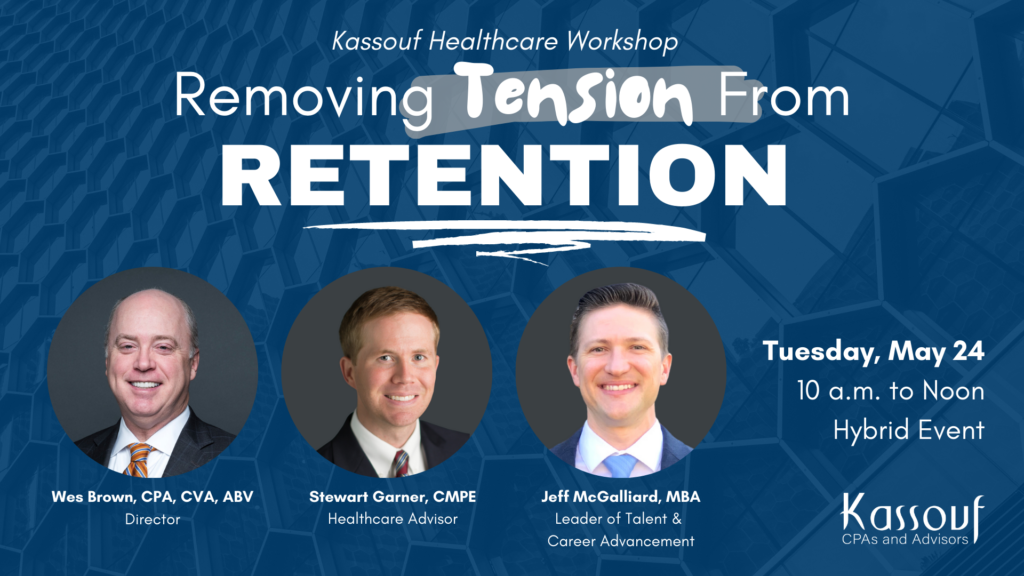 It's no secret that finding and keeping great talent is a challenge, and the healthcare industry is no exception. Kassouf's Healthcare Group presents Removing Tension from Retention, a hybrid workshop for practice managers, providers, and hiring managers in healthcare.
The event takes place Tuesday, May 24 from 10 a.m. to noon both in-person and virtually. There is limited seating for in-person attendance, and a complimentary lunch will be provided for those attending at Kassouf.
About the speakers:
Wes Brown, CPA, CVA, ABV: Wes is a Director and Shareholder at Kassouf, working in the firm's Healthcare Group. Wes provides accounting, tax, and advisory services for healthcare businesses with an emphasis on practice management, revenue cycle management and incentive compensation model. His areas of specialty include business operations, emerging businesses, accounts receivable, mergers, acquisitions and divestitures.
Stewart Garner, CMPE: Stewart is a passionate and driven Healthcare Advisor at Kassouf. As a Healthcare Advisor, Stewart helps clients make informed business decisions and find innovative solutions to increase profitability and efficiency. His areas of emphasis include but are not limited to operational assessments of practice workflows, process improvement initiatives, EHR/PM system implementation and optimization, revenue cycle management, payer enrollment, bundled payment models, and HIPAA privacy and security compliance.
Jeff McGalliard, MBA: Jeff recruits and retains top talent at Kassouf as Leader of Talent and Career Advancement. He coordinates and strategizes team development for the firm, ensuring Kassouf's professionals have ample training and goal-setting opportunities. Jeff also serves on the board of directors for the Association of Talent Developers – Birmingham Chapter and was recently named a NextGen honoree by the Birmingham Business Journal.
Who should attend?
Practice managers, CFOs, business managers, human resources professionals, healthcare providers, and anyone who makes hiring decisions in the healthcare industry.
This event is free of cost. Register here. 
Download our healthcare recruitment and retention guide here.