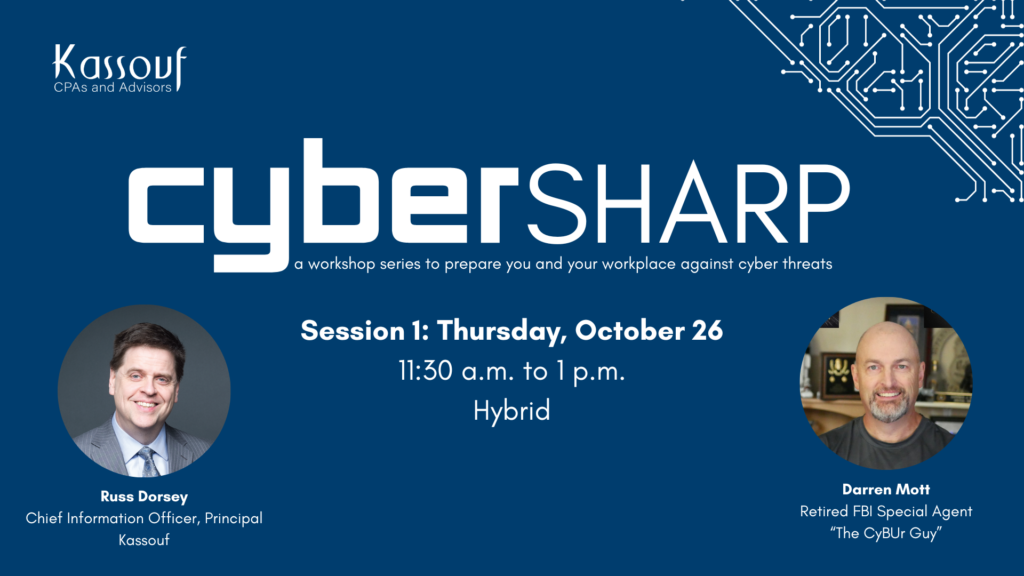 *This event is postponed. We will share the new date here once it is confirmed.*
As part of Kassouf's commitment to keeping you and your business safe and secure, we have partnered with cybersecurity expert Darren Mott to provide a series of educational opportunities about cybersecurity. Whether you operate a small business with just a few employees or manage a large enterprise, cybersecurity matters more than ever in today's digital landscape.
Thursday, October 26
11:30 a.m. to 1 p.m.
Hybrid
If you're concerned about data breaches, phishing attacks, or employee negligence, our CyberSharp series will help you develop a plan. As a retired FBI Special Agent, Darren possesses a unique position to explain the threat landscape, drawing on 20 years of experience with the FBI's cyber and counter terrorism units. Kassouf Principal and Chief Information Officer Russ Dorsey has over 30 years of experience in information services, spanning multiple industries and a wide spectrum of changing technologies.
We're kicking off the first session during Cybersecurity Awareness Month. CyberSharp is a continuing education series. You do not have to attend all sessions to participate, but the series will be more meaningful if you do.
This event is perfect for anyone who makes decisions regarding your workplace's IT department and cybersecurity measures, especially those in small-to-medium sized companies. If your company isn't making decisions in these areas, now is the time to start by tapping into Russ and Darren's knowledge and experience through CyberSharp.
This event is offered in a hybrid format with a limited number of in-person spots available at Kassouf, which include complimentary lunch. Virtual attendees will receive Zoom login details the week of the webinar.
About Darren Mott: Darren is an innovative and versatile leader with more than 20 years of progressive responsibility and top performance at the Federal Bureau of Investigation in the Charlotte, Cleveland, and Birmingham Divisions and within the Cyber and Counterintelligence Divisions at FBIHQ. Darren is frequently requested as an advisory resource. Darren produces and hosts The CyBUr GUy podcast.
About Russ Dorsey: Russ has worked in information technology for over three decades, with a primary emphasis on cybersecurity. He currently serves as the CIO at Kassouf, one of Alabama's leading CPA firms. Previously, he was the founder and CEO of one of the area's top IT managed services and cybersecurity providers. His background as a solutions consultant, entrepreneur, and IT executive provides a unique perspective, helping clients strike a balance between cybersecurity, business functionality, and cost-effectiveness. At Kassouf, Russ spearheads the team responsible for IT security, compliance assessments, and managed IT services. Russ firmly believes that cybersecurity awareness and education are the crucial first steps in protecting an organization. He serves on the boards of InfraGard and TechBirmingham and hosts a podcast, CyberMatters, focusing on cybersecurity and technology.