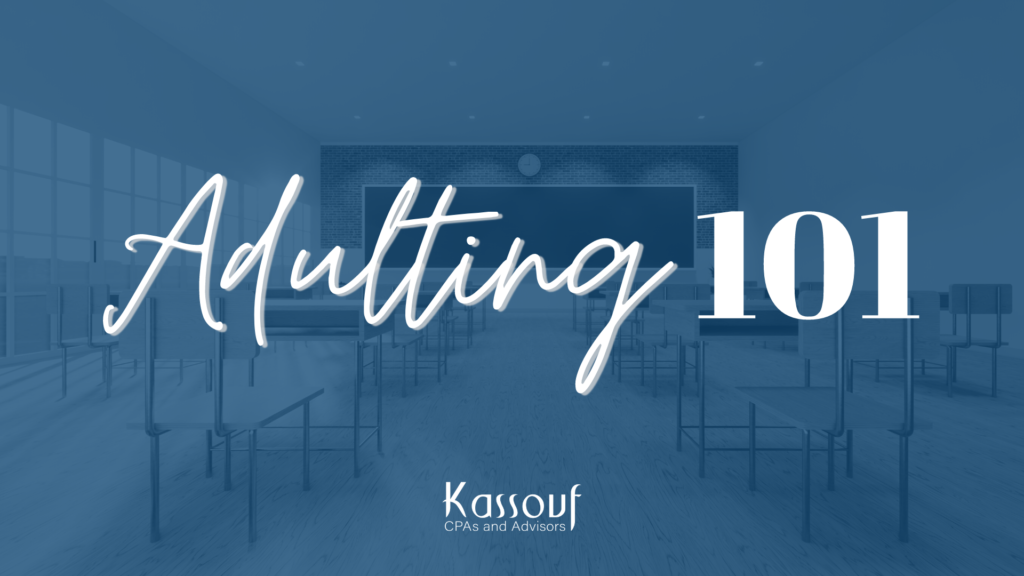 You've probably seen the word adulting make its rounds on social media over the past few years. But, what does it really mean to adult? From mortgages to credit scores, financial literacy is one of the most important parts of mastering adulthood. Kassouf Principal and Financial Planner Michelle Pike shared tips to make sure you (and your finances) are on the path to adulting. This is part one of a multi-part series. 
Michelle is a CERTIFIED FINANCIAL PLANNER™ (CFP®) and Accredited Estate Planner® (AEP®) and specializes in personal financial planning, including education planning, insurance planning, investments, retirement planning, and estate planning. Michelle has been with Kassouf in our Birmingham, Alabama office for over 20 years.
"The first thing I think about when we talk about adulting is your credit score. We talk about getting credit cards. When we look for home loans or auto loans, everybody's always worried about their credit score. A lot of people don't really know a lot [about their credit score] until you're right there in front of the loan officer, which is not the time to try to figure it out," Pike said.
Many people don't learn more about their credit score because they're worried that looking up a credit score could hurt them, but that's not the case with AnnualCreditReport.com, the federal government's program to ensure you can access your credit report for free without damaging your score.
Users can access each credit bureau once a year through the government program, including TransUnion, Experian, and Equifax, so Michelle recommends accessing your credit report once every four months. For example, you can start the year with a TransUnion report in January, access an Experian report in May, and then use an Equifax report in September. You can then restart the cycle the following year without damaging your credit or paying for the reports.
"You're always able to see what your credit is doing or if a new account's been opened, or if somebody has breached into your accounts," she said.
You probably have thought about checking your own credit score, or even your spouse's credit score. However, Michelle explained that you shouldn't stop there. Your children's credit scores should also be accessed.
"One thing I always recommend to people if you're adulting with kids is that kids' identities have been stolen more and more often," she said. Hackers can use children's social security numbers to open accounts and credit cards. Many times, the victims are not aware of the damage until it's time for the child to open their own credit card.
Parents can access their child's credit score via the same free resource, AnnualCreditReport.com. Unlike an adult, however, the bureau will mail the credit report to you instead of it appearing online.
All of Michelle's tips are available via our Adulting 101 episode of the Kassouf Podcast Network. The financial podcast is available via Apple Podcasts, Spotify, Amazon Music, or wherever you like to listen. Learn more and tune in here.  
The best pathway to adulting is careful planning, and a great resource for planning is a team of fiduciary advisors. Kassouf and Kassouf Wealth Advisors offer a myriad of financial planning and investment management services to clients in Birmingham, Alabama, and throughout the Southeast. Interested in talking to one of our professionals? Reach out here.